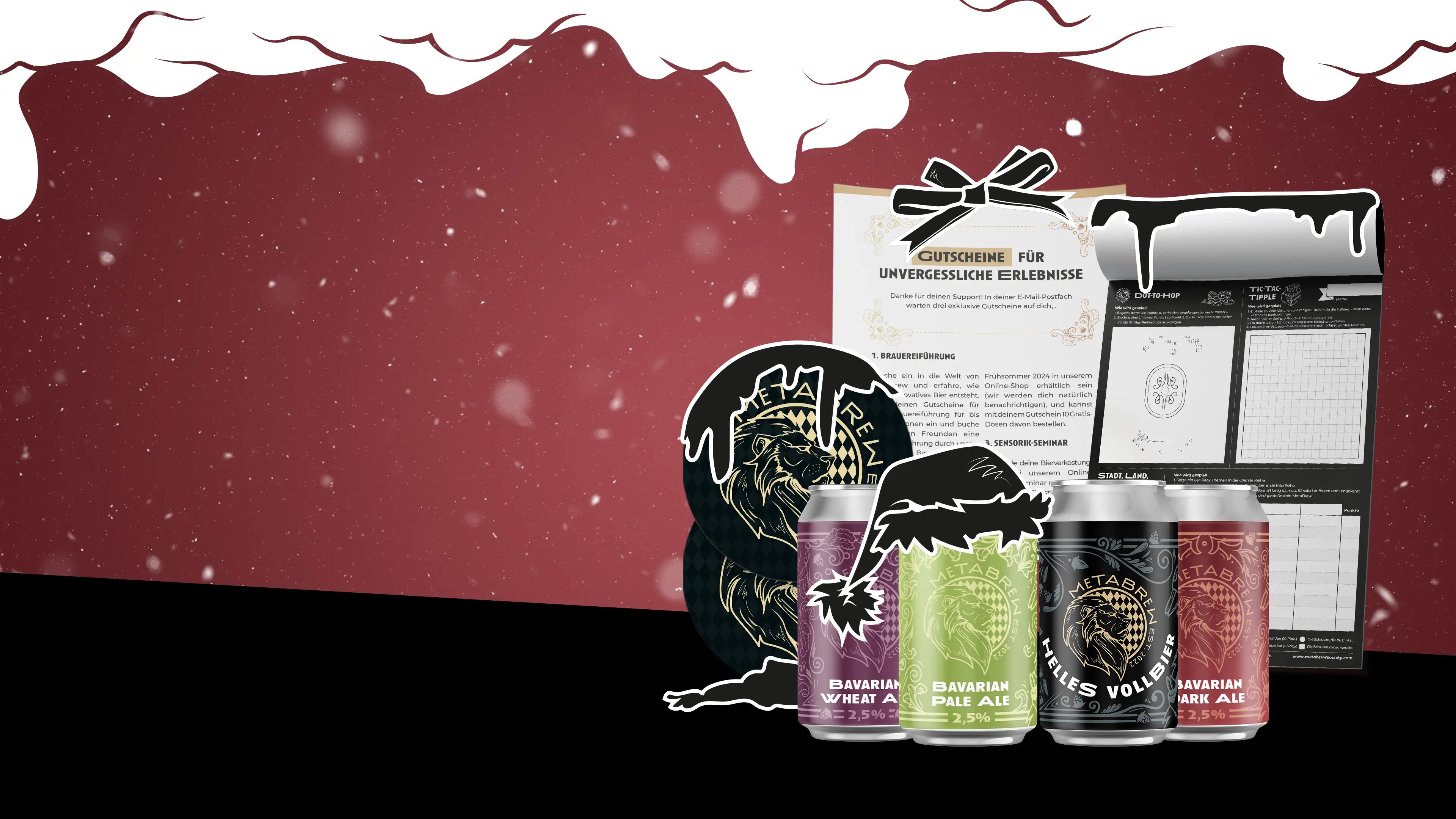 MetaBrew
So smart ist Biergenuss heute:
Unfassbar lecker, süffig, fruchtig
Voller Biergenuss ohne Reue und Verzicht
50% weniger Alkohol
50% weniger Kalorien
100% Gerschmacksexplosion
Jetzt in den limitierten Bierpaketen!
Selbst genießen oder verschenken!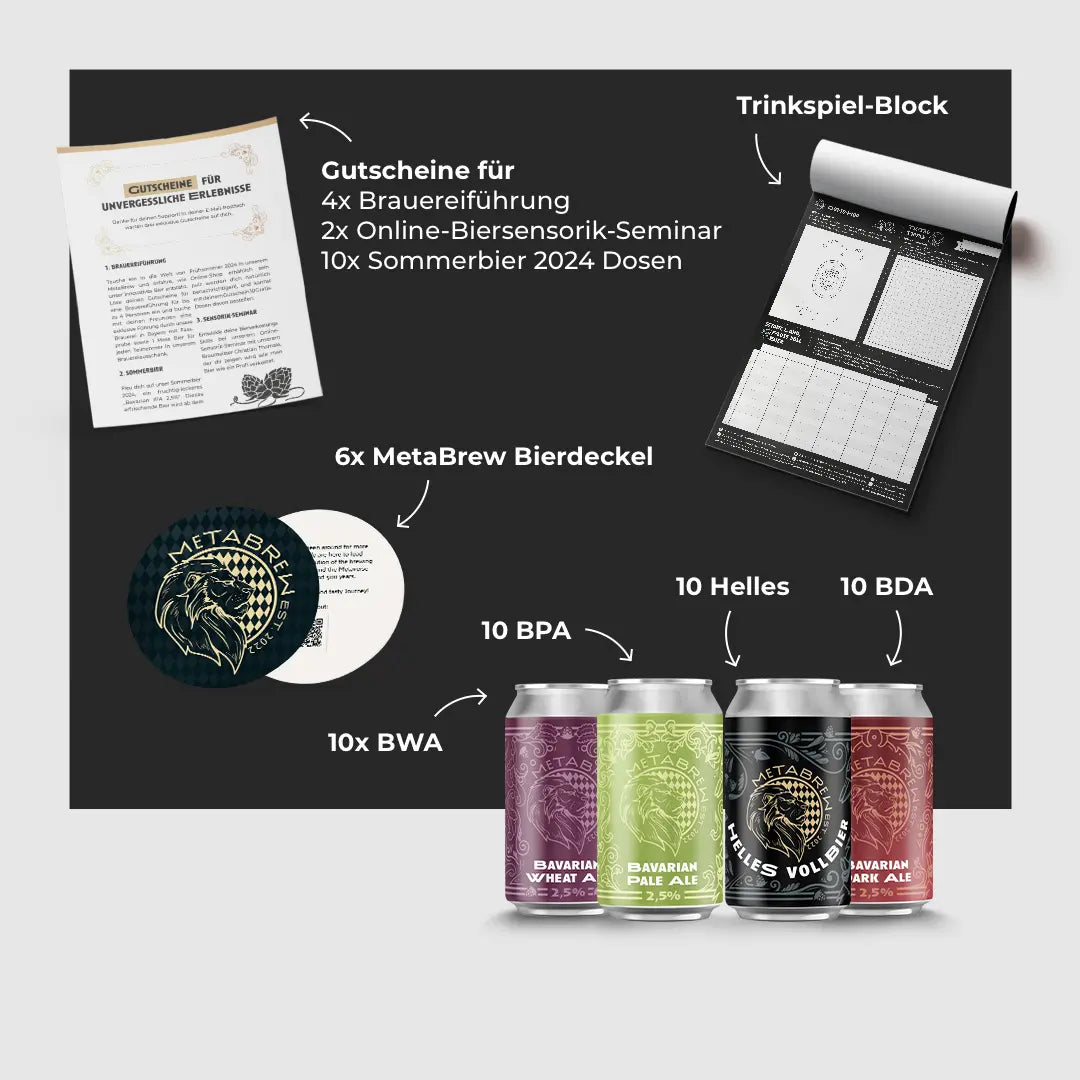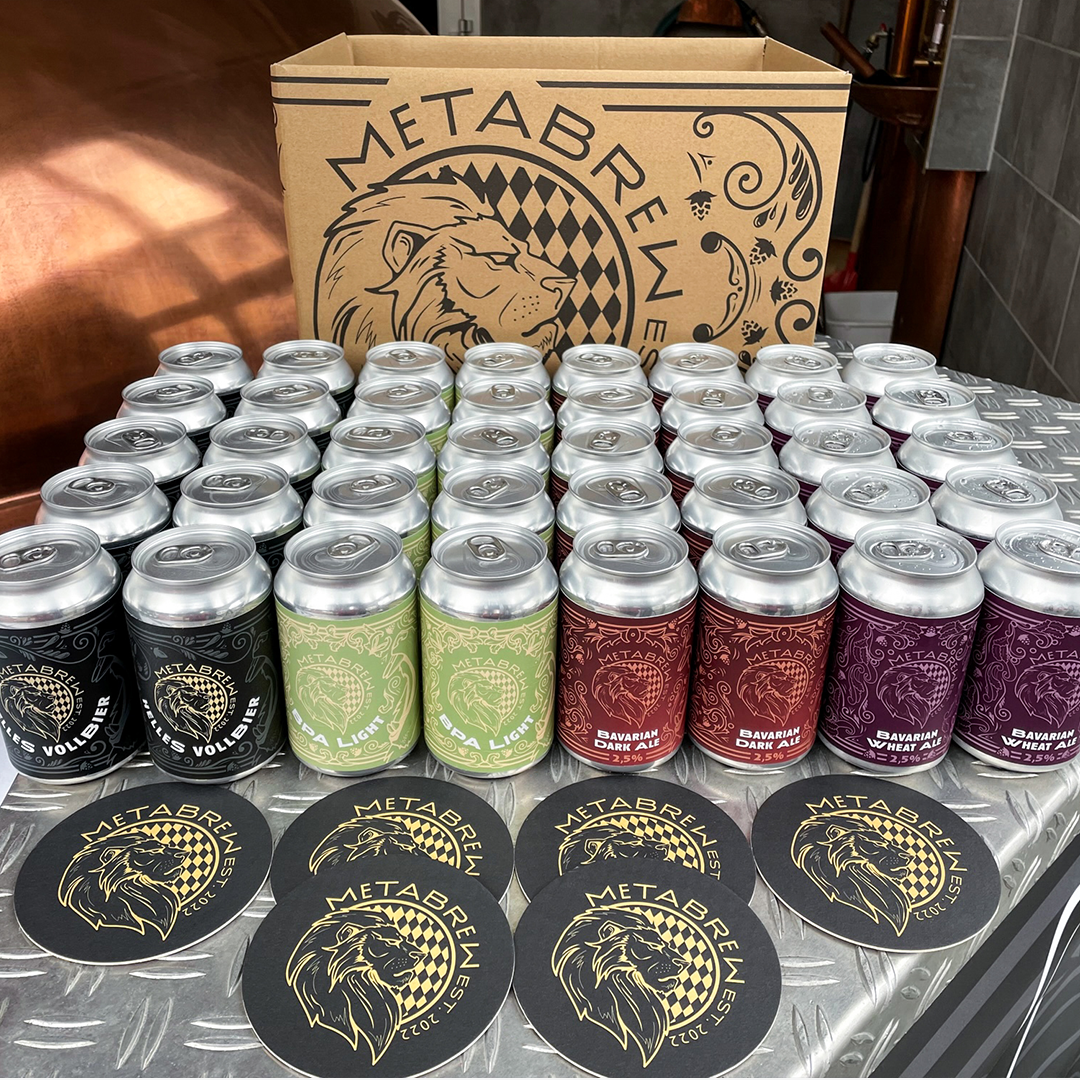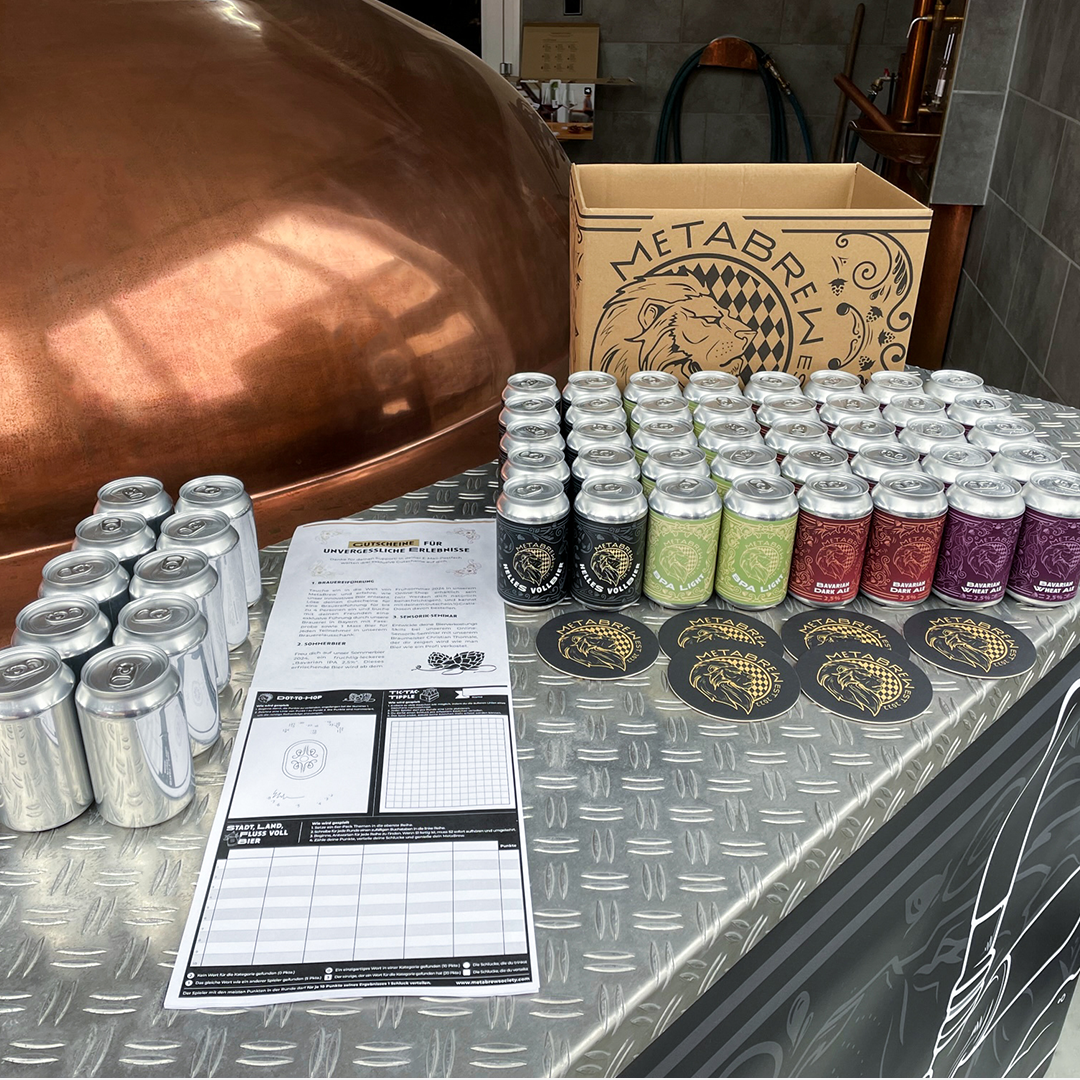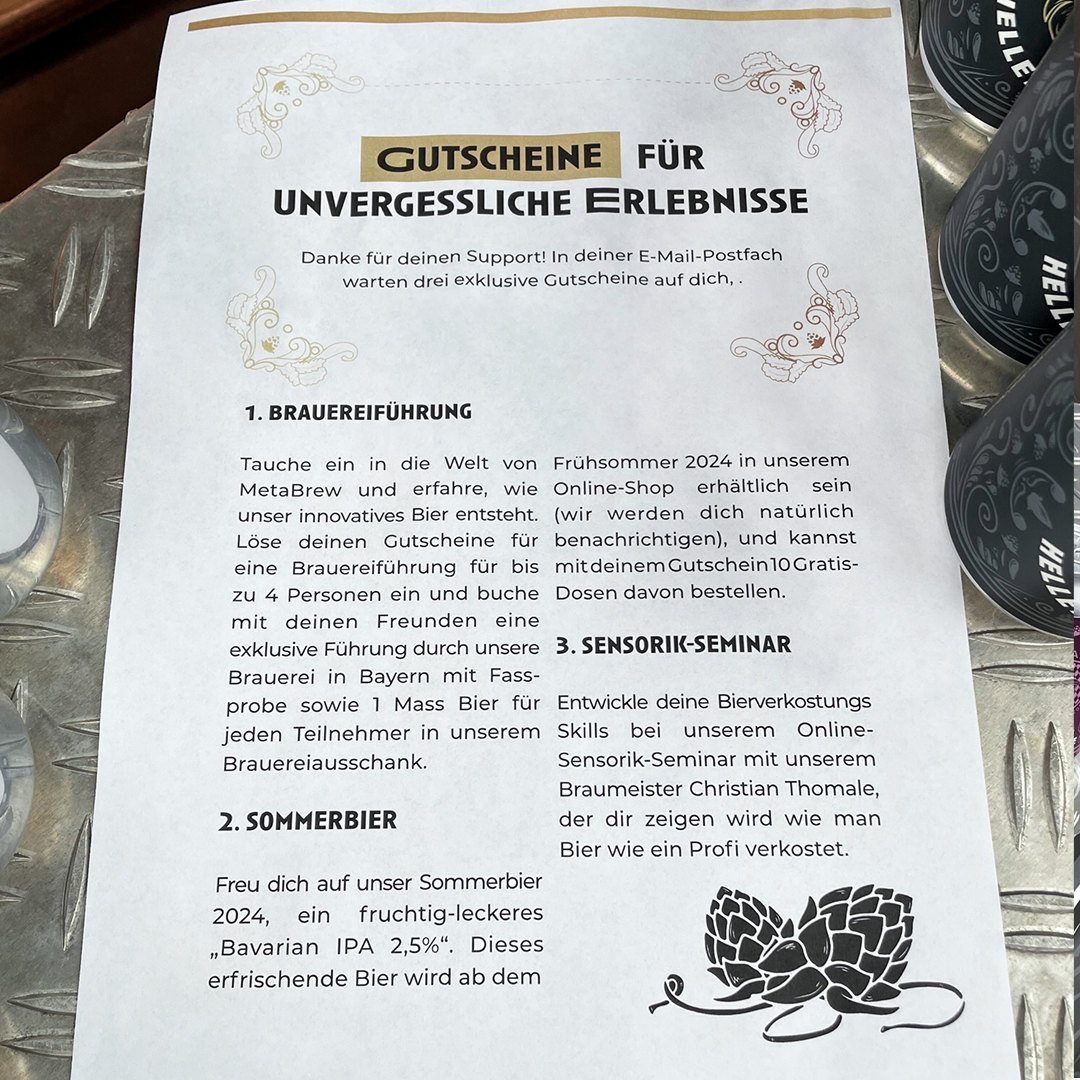 Kostenfreier Versand und Dosenpfand bereits inklusive!
MetaBrew Beer Experience Package worth > 250 EUR for only 159 EUR

The perfect introduction to the MetaBrew beer experience, which uniquely combines tradition with innovation. Light beers with 50% less alcohol and calories while still having a tasty, full beer taste. Bavarian delicious. Enjoyment without regret.
Join the light beer revolution now with our starter beer experience package with plenty of beer, brewery tour for 4, sensory seminar and much more.
The perfect Advent or Christmas gift for beer lovers - or simply to enjoy yourself

Consisting of
50 cans of delicious Bavarian beer for a relaxed Advent and Christmas season (or to make an Advent calendar out of it and simply drink the rest yourself):

10 cans of Bavarian Pale Ale 2.5% (value: EUR 19.90) our bestseller. The perfect, fruity, fresh, drinkable meal and daytime companion. Super tasty, 50% less alcohol and calories with full taste. Simply brilliant.

10 cans of Bavarian Dark Ale 2.5% (value: 19.90 EUR) spicy roasted aromas paired with the freshness of Polaris aroma hops result in a full-bodied yet fresh dark light beer. A taste explosion without regrets. Also goes well with hearty dishes as a meal accompaniment. Not to be defeated! A special treat.

10 cans of Bavarian Wheat Ale 2.5% (value: EUR 19.90): a fruity, full wheat flavor experience with 50% less alcohol and calories. An ideal companion for a thirst-free afternoon or evening without a guilty conscience. The smart alternative for lovers of classic Hefeweizen.

10 cans of Helles (value: 15 EUR): Our full-bodied, drinkable icon - ideal for an enjoyable evening.

Voucher for 10 cans of summer beer 2024, a super fruity "Bavarian IPA 2.5%", available from early summer 2024 (value: EUR 19.90). We will of course notify you so that you are among the first to feel this incomparable summer experience tingling in your throat.

4 tickets (valid for 1 year) for a brewery tour in our brewery in Naila with a barrel tasting and 4 masses of beer in our brewery bar (value: EUR 118)

2 tickets (valid for 1 year) for an online beer sensory seminar with our master brewer Christian Thomale and certificate of participation (value: EUR 39)

1 block with drinking games (value EUR 9)

6 MetaBrew beer mats (value 3 EUR)
Bekannt aus...
Bekannt aus...
Bekannt aus...
Bekannt aus...
Bekannt aus...